Find Your Perfect Putting Green in Winnipeg
Are you a golf enthusiast in Winnipeg looking for the perfect putting green? With so many options available, it can be overwhelming to choose the right one for your needs and budget. This buyer's guide will help you navigate the market and find the best putting green for your home or business.

Putting Green Winnipeg: A Buyer's Guide
If you're looking for an easy and low-maintenance solution to creating a putting green in Winnipeg, artificial grass material is a great option. Not only does it require very little maintenance, but it can also be installed in a variety of spaces, from small backyards to large commercial spaces. Let's go over a few things you are going to want to consider before making your purchase. 
Determine Your Budget and Space.
Before you start shopping for a putting green, it's important to determine your budget and the amount of space you have available. Putting greens can range in price from a few hundred dollars to several thousands, depending on the size, materials, and features. Additionally, you'll need to consider the amount of space you have available for installation. If you have a small backyard, you may need to opt for a smaller putting green or consider an indoor option.

Choose the Right Material.
When it comes to choosing the right material for your putting green, there are a few options to consider. Synthetic putting green turf is a popular choice as it requires minimal maintenance and can be customized to fit your space and budget. Natural grass is another option, but it requires a lot more maintenance and long term is way more expensive. Additionally, you'll want to consider the type of infill used under the turf, as this can impact the ball's roll and overall performance of the green. Be sure to do your research and choose a material that fits your needs and budget.
Turf 2 Putt – Recommended Winnipeg Material
The Turf 2 Putt product comes highly recommended and has amazing customer feedback. Not only is this a premium quality product, it is also being sold at wholesale prices at the moment. For use in custom-designed putting greens. This ultra-premium artificial grass is designed to give true ball roll and bounce reaction. Infill is required to control.

Here are the Turf 2 Putt Product Specs:
Full Roll Size: 13ft x 82ft or custom size W x?
Backing: Polyurethane
Colour: Field Green / Lime Green
Pile Height: 0.5"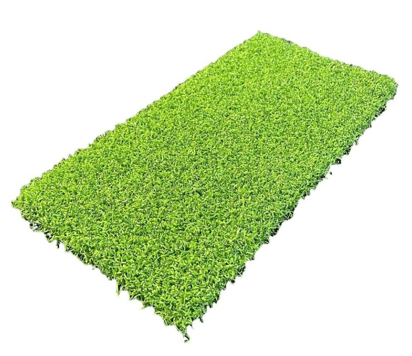 Contact Turf 2 Supply Now To Learn More About This Product
Read Reviews and Compare Prices
Before making a purchase, it's important to read reviews and compare prices from different suppliers. Look for reviews from other customers who have purchased putting greens in Winnipeg to get an idea of the quality and performance of the product. You can also compare prices from different suppliers to ensure you're getting the best deal. Keep in mind that the cheapest option may not always be the best quality, so be sure to weigh the pros and cons before making a decision.

Installing Your Artificial Putting Green
The first step in installing your artificial grass putting green is to prepare the area where it will be installed. This means removing any existing grass or debris, leveling the ground, and creating a solid base for your artificial grass to rest on.
Next, you'll need to install a layer of compacted gravel or crushed stone to create a stable base for your artificial grass material. This layer should be several inches deep and should be compacted with a tamper to ensure that it is level and stable. If you are installing your putting green indoors you may choose a different base such as plywood. Outdoor and indoor approaches will vary so be sure to talk to one of our professionals on installation tips.
For a more comprehensive installation guide in an exterior setting, refer to our Home Page. 
Once your base layer is in place, it's time to lay your artificial grass material. This is done by first laying out your artificial grass and trimming it to fit your putting green area. You'll then need to apply a layer of adhesive or metal spikes to the base layer and carefully lay your artificial grass on top.